Greetings, happy salutations and holiday merries to you and your families  from all of our Bunkie Buz family, friends, and relative friendlies here in beautiful downtown Bunkie—both "on" and "beyond" the environs of the Main Street!
Did say I both "on" and "beyond"?  Indeed!  For our happy, hearty troop has most certainly grown in thought, word, deed, and direction!   We, of the veritable and vibrant Bunkie Buz Sweet Sixteen are sixteen no longer!  Though sweet we remain—yea, sweeter we have become—for we have new family to boast of and Buz about, even beyond the Main (Street)! We are presently, pleasantly, newly and notably nineteen in number!
On these beauties do we brag and Buz!  These are significant and undeniable signs of progress…the "Buz" of Bunkie biz! And speaking of signs (both virtual and visual),  notice that amongst the day-to-day directional and "Do drop in," plaques and plates on street and edifice there doth protrude and blossom a new presentation—a beauteous, budding of the Bunkie Buz in bright hue and varied intent!  The Bunkie Buz Brand can be found emblazoned upon post and pole indicating "who," directing "to," and the celebration of "Bunkie Buz on Main Street," as well as branding each of our Bunkie Buz member's Buz-nesses.  So, be it known to all to look for the Bunkie Buz members sign in or on the Buz-ness for dropping in, stopping in, and shopping in, to seek and see the signs, wonders, and wonderful people of the Buz; or, just to peek and pass along a happy hello! You are sure to catch the Buz.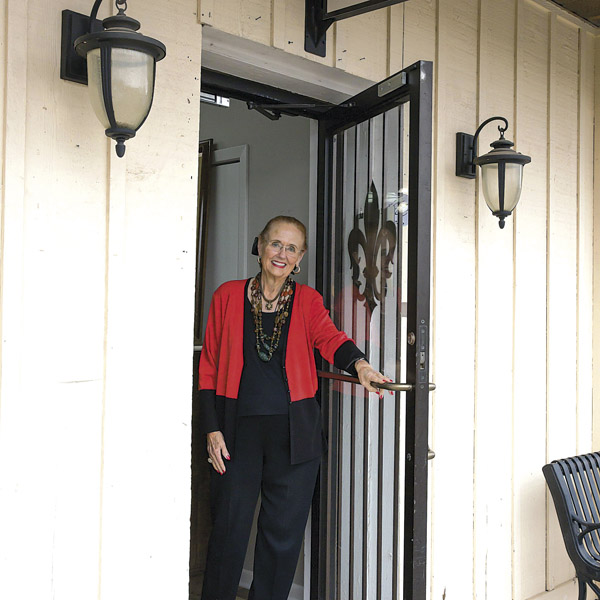 We even have a Bunkie Buz Tourist Information Office opening soon on Main Street, along with new signs to point the way!  We proudly confirm that the official and diminutive  Bunkie Buz Tourist Office is now properly festooned with signage from face to fascia, and fascia to upper floor (roof top) and shall be available in short order to assist those in need or need to know all manner of directional data—whether place or provision, visitation or victuals, even "who has…" or "who does…"  Find it nestled beside Fitzgerald's Antiques & Gifts, located at 227 SW Main Street, where a wonderland of antiques and gifts—both vintage an semi-vintage—are displayed to be enjoyed in place or taken home.   Anne (of Loyd Hall B&B fame) sports a wealth of charm, knowledge, and wit.   Lovely store, lovely time spent, lovely Anne…definitely genuine Buz here!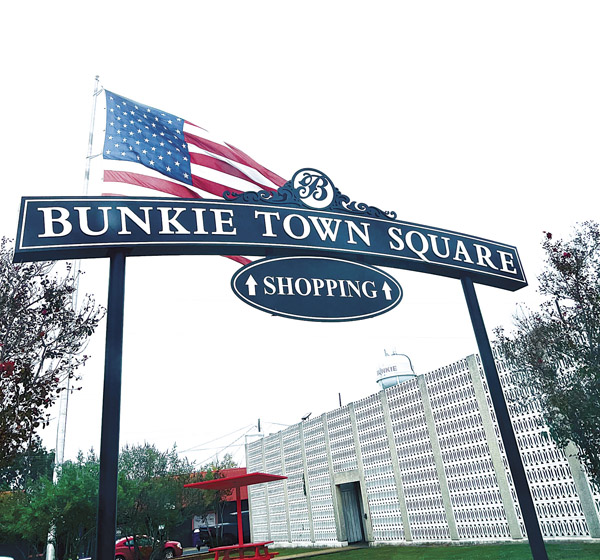 We also await, with childlike excitement and anticipation, our newly revamped and stamped "Welcome to Bunkie" brochure, which will provide names, numbers, and navigation (map) for friends and family, both near and far.  Along with the aforementioned "here to there" info, we shall have available (order is in and being printed as we speak) Bunkie Buz T-shirts—the colorful Buz for the fashionable—just in time for the season of shoppables and giftables, or just snagging one for the fashionable you.  Clothe yourself a la Buz!
Ahh, signs and wonders and the wonder of signs…Steele's Flowers, Gifts & Jewelry, located at 112 W Magnolia, boasts both new and stunning signage that beckons round the corner on Magnolia Street, adjoining the elegant white brick edifice of the Cottonport Bank.  The newly provisioned gift shop bursts with delights, both floral and fragrant, as well as an amazingly wonderful array of gorgeous giftables—from jewelry to culinary to cosmetic—for varied  seasons of celebration. The aroma of the Buz is worth the visit!
Sweet Magnolia!  The sign points travelers to Magnolia Suite Bed & Breakfast on W Magnolia. It features an upper berth (second floor), newly remodeled and finished suite to suit those needing to relax, rest, and refresh in quiet comfort, to come and go  "on your own schedule." The B&B is tucked just behind Be Encourage Upscale Resale Shop, located at SW Main, which is also on the Main Buz with a newly remodeled showcase inside and out for resale fashion and style.  New sign, new location, new Buz, and excellent people, too!
Tread the cobblestones to the right of  Be Encourage back in time to Hoover's 5 & 10 and Cleaners at 202 SW Main, where an avalanche of nostalgia and favorite childhood snacks and novelties of five and dime fame will result in grins, giggles, and getters of attention for the child and the child in all of us.  There's the added bonus of rapid service for laundry on the run does that not hurt, either.
As to cell (phone) service and more, Bunkie Wireless at 206 SW Main puts you in touch and keeps you in contact with excellent knowledge, sales, and service for most all phones and computers.  From personal experience, I can say that Bunkie wireless has kept my Buz humming and never failed to help keep my cellular buzzing uninterrupted.
Is there a doctor in the house? Well, even without, we find the most wonderful care, assistance, and many travelers' "gotta haves" that will not only include medical and pharmacy items, but also the delightful and diminutive boutique to snag a bit of fashion and gift items to share on the trip or gift at a future celebration at the New Parrino Drugstore & Boutique at 208 SW Main. They are the most knowledgeable, caring, and helpful people, just like family!
If there is one establishment that reflects the core/genesis of the Buz, it is without question Griffins Antiques, Café and Gifts, located at 228 SW Main, at the crossroads of Highways 71, 29, and 115. Or, as we locals know it, the second traffic light/intersection in Bunkie.  Dynamic and historic in its architectural presence, Griffin's figures prominently in our Downtown Bunkie Buz.  Greg Kojis purchased and refurbished both building and business with a dedication to revitalization that has proved potent, positive, and productive.  The addition of the Bistro café that sports a delightful selection of soups, salads, sandwiches (the chicken salad featuring bacon on a croissant remains my personal favorite!), savory stews, not to mention beignets, pastries, cakes, pies, ice cream, coffee bar, Louisiana gifts, antiques, collectibles and much more! Griffin's even includes  Fatty's Bakery—where all good calories come from—and Leslie Catherine's Jewelry & Gifts—where precious metals, jewels, and dreams come true. Leslie is skilled in concept design and redesign of what is treasured and/or soon to be treasured, and  also can mesmerize with other giftables of sparkle and bling.
An artful and unhurried Buz awaits down the short stretch of asphalt to 400 SW Main where you can sojourn in the artfully floral and fluidly artful environs of  Jojo's Flowers by Crisdensa.  The incomparable beauty and aroma of fresh cut flowers enhanced by arts and crafts that touch the heart and soul are truly delightful and inspiring.  The store is tranquil and refreshing, offering an excellent shopping experience.
At the southern tip of the Buz, visitors are drawn by the desire for savory sustenance, the burger and siren song of the sandwich. "Get thee to the sandwichery!" at Bernice's Sandwich Shop, located at 911 SW Main) Bernice's boasts a long-standing reputation as "The Best Burger" around! I do confess testing that reputation  on many an occasion!  From these small pick-up windows flow delicious and delectable sandwiches and sides to quell the most ravenous appetite.
Full from that delicious burger Buz, we waddle to the other end of the Bunkie Main to gather provisions for the home larder and fight off the impending food coma.  We shortly arrive at the welcoming gates of the Palace Farmers Market at 110 SW Main to ogle and to gather the fresh produce from terra firma,  terra aqua, and terra "farma."  Most any food—fresh or frozen—can be acquired with particular attention to local fare when in season, with seasonal specials picked and packed, ripe and ready for your pleasure.
Sharing the dividing wall of the market on the other side is our very own Saxon Studio of Antiquities, specializing in sales, repair, restoration, and resuscitation of decorative and fine arts. Antiques ourselves and veterans of nigh 47 years, my brother Joel Smith and I are well qualified to address many facets of the field of antique restoration with some specialization in military antiques and weaponry, lamps and lighting, oil painting and frame repair, to name but a few!
Shifting one block further north on the Main, we collide with the explosive aroma of pizza from the Bunkie Pizza Shack at 412 NW Main, located in the little blue oasis on the corner.  Loads of food, fun, and friends await with delicious homemade pizzas of every description, po-boys, seafood platters, burgers, salads, wings, and much more!  Arrive empty and leave with your tank full!
Onward to the North end of the Bunkie Main, we  follow the intoxicating aroma of our beloved southern favorite—fried chicken!  Crispy Cajun Fried Chicken at 732 NW Main offers delicious fried chicken by the piece, plate, or pile—with or without their scrumptious select sides, or even daily lunch specials! Every degree of hunger shall cease and desist and we're sure you'll return again and again for another taste of the well-battered Buz.
There's always room for desserts and other sweet delights, so step across the Bunkie Main to  Poppa J's Donuts. Sweet Treats & More at 931 NW Main. Indulge in donuts of all descriptions and sweet treats—including ice cream!—not to mention the fritters, pies, kolaches, sodas, juices, cappuccino, and monster drinks galore, all under the giant neon Pappa J's Donut sign!
There is yet  another Buz to be enjoyed to the fullest!  There is a culinary Shangri-la about a half mile east on Highway 115, next to the hotel (on the left). Turn left to 124 Lyle Avenue and enter the crawfish crowned gate to experience the pleasures of Rocky's Tails & Shells Grill & Dugout Bar. Featuring the Dugout Bar, Rocky's boasts a stellar menu with the best crawfish—bar none—along with enviable courses of shrimp, chicken, fish and steaks—fried, grilled, baked, or broiled—served over pasta (Pasta Pontchartrain being my favorite), salad, baked potato, with or without veggies, specialty burgers, Gumbos…the list goes on and on. I recommend repeated visits to get the full experience.
Near and dear is a safe haven for the comfort of total collapse and needed rest at Evergreen Bed & Breakfast, located at 1461 Highway 29.  The beauty of the southern charm, hospitality, and the image of the southern home are far enough in the country to be a getaway, yet comfortably close enough to the Buz of town to be accessible so you can come and go with ease.
Indeed, 'tis the season! Happy Thanksgiving! Merry Christmas! It's the season to be nosey, cozy, and just a wee bit rosy. To exchange happiness and laughter, enjoying the friendship and kinship, just as we do here in the merry midst of the Bunkie Buz. We Buzters wish to express our heartfelt gratitude to Mark Hoosier and our friends at Cenla Focus for this wonderful opportunity to share with you our Buz.
So, now you know who we are and what we are all about.  At the heart of the Bunkie Buz is the heart of our fellow Buz members, and we invite you to become part of it all! Everyone who visits, whether from near or far, are welcome to join our Buz! We are delighted to share with you. Tourism is one word for it; maybe one better is friendship.  So, join us.  Relax, refresh, refuel, recreate as you catch the Bunkie Buz!