For their exemplary contributions in their professions and communities, ten local African-American women are being hailed as Cenla's Women of Distinction.  The honorees were selected by our editorial staff and a panel of community leaders from multiple parishes. Sally Maxie and Evelyn Bush of Sabine Parish, Sherian Cadoria of Avoyelles Parish, Idell Snowden of Natchitoches Parish, Rosa Jones, Ruby Smith, Rodessa Metoyer and Gwendolyn Elmore of Rapides Parish, Gladys Morris of Grant Parish and Willie Mae Kennedy of Vernon Parish are all making a difference in their communities. They believe in the concept of "giving back." The fabric of their lives is interwoven with a common thread, and that is "service above self."
We want to pay tribute to these women who have created a legacy of excellence through their hard work and countless volunteer hours. Many of the honorees come from humble beginnings, but all of them share common traits. Each of them has a strong belief system. And each one has displayed enduring qualities throughout their lives that propelled them each to succeed in their chosen professions.

Willie Mae Kennedy
Leesville City Councilwoman Willie Mae Kennedy has a heart of compassion and has devoted her life to helping others.  I've always had a special place in my heart to be a caretaker. It was a blessing to me to use my skills and talents to help people," Kennedy says upon reflecting about her life.
The oldest of four girls, Kennedy graduated from Vernon High School. She married her high school sweetheart Steve, and the couple had two children, Pamela and Steve. In 1976, Kennedy decided to pursue a nursing career and attended Lamar Salter Vo-Tech School. While studying to become a licensed practical nurse, she worked as a certified nurse's aide at night in the emergency room at Bayne Jones Army Community Hospital at Fort Polk. After graduating as a LPN, Kennedy continued to work at the hospital. Altogether, she worked a total of 43 years at Bayne Jones Army Community Hospital before retiring in January 2009.
At the hospital, she worked in the OB-GYN clinic, family practice clinic, and her last 25 years in the Department of Preventative Medicine Service. There she served as a community health nurse. In addition to working at the Fort Polk hospital, Kennedy worked weekends at Byrd Regional Hospital in the geri-psych unit, and occasionally at Leesville Rehabilitation Center.  "God provided all these opportunities for me. I have always tried to 'give back' because of what God has given me," Kennedy relates.
Retiring from work opened many doors for her to start volunteering in a variety of capacities. As part of a volunteer support program, Kennedy serves as the chair for the American Cancer Relay for Life. She is an active member of Mount Olive Baptist Church and serves on the Senior Citizens Auxiliary board. In addition, Kennedy is the health and wellness educator for the Calcasieu District Association. She still finds time to volunteer at Byrd Regional Hospital and is a member of the Byrd Regional Senior Circle. She is an active member on the Council on Aging and enjoys oil painting and making jewelry in her spare time.
As a volunteer for the Louisiana Area Ministerial Association, she is involved in "Operation We Care," which helps prepare food boxes for the needy during the holidays. Last year, the group prepared more than 700 boxes of food for distribution. Kennedy also serves on the Jubilee Park Committee, which has several annual projects. The group decorates the park for Christmas, hosts a "Back to School Bash" where school supplies are distributed, and hosts an area-wide prayer breakfast.
In June 2010, Kennedy was elected and sworn in to serve on the Leesville City Council.  "My husband served for eight years, but due to health reasons, did not seek re-election. But I felt the residents' concerns were mine, so I ran for the council. I have a listening ear, and I always try to find a solution," Kennedy explains her reasons for seeking office.
To really succeed in life, Kennedy, the grandmother of three, says, "You must be willing to 'give back.' Everyone has different gifts, but we all have some time to share."  As far as overcoming obstacles in life while working toward a goal, Kennedy recommends seeking out "counsel from your elders."  "Don't let problems become problematic," she says, adding. "We can do anything through God who strengthens us. If we believe in God, He will make a way when there is no way."
Gladys Morris
Gladys Morris' philosophy in life has always been to put others first before herself.  "I've always felt it was a blessing to help others," she notes.  Morris, the Grant Parish resident, was raised in Colfax by her aunt and uncle, who were tenant farmers. Morris started picking cotton at an early age, but soon was promoted to weighing the cotton. She learned how to read and write before starting school, and was even able to teach her aunt and uncle how to read.  "I always felt like the good Lord put something special in me that was like manna from heaven," Morris says about her grasp on learning how to read at an early age.
Her love of learning was rewarded when she graduated as the valedictorian her senior year from the Grant Parish Training School. After high school, she graduated from the YMCA Business College in New Orleans. She earned her bachelor's degree in education from Prairie View A&M College in Texas. Morris returned to her hometown to teach school. She served as a classroom teacher, supervisor of the Title 1 reading and later as an assistant principal. She retired from the public school system in 1979.
Morris received her master's degree in education from Louisiana State University in Baton Rouge. Her post-graduate studies include a reading specialist certificate from Northwestern State University in Natchitoches. She received an honorary doctorate from University of Southern California in Los Angeles.  Morris decided she wanted to teach in a private school, and taught at Our Lady of Prompt Succor. She served as the reading specialist and coordinator for the gifted and talented program at England Air Force Base Independent School. She retired from teaching in 1991.
For nine years, Morris served as the director of Head Start, and later was a child development associate national representative for the Council for Early Childhood Profession Recognition in Washington, D.C. for eight years. She was selected to serve as a grant "reader" for the U.S. Department in Washington, D.C., for the "Upward Bound" program.
At her church, St. Joseph Catholic Church, Morris serves as lector and Eucharistic minister. She was the Regent of Court Gibbon #492 for four years, and was the first and only African American woman to serve in this capacity in the Diocese of Alexandria. She is currently a member of the Court of Bishop Greco in Pineville. Morris and her late husband, Madison Morris, have two children. In addition, Morris has three grandchildren and two great grandchildren.
Gwendolyn Y. Elmore
Gwendolyn Elmore, an Alexandria native, is the founder, president and executive director emeritus of the Arna Bontemps African American Museum and Cultural Arts Center.  She believes that God has provided unique gifts in everyone to help them pursue excellence and their destiny.  "It gives me a certain kind of gratification in bringing a different kind of experience to Alexandria. I believe the Arna Bontemps African American Museum allows the community to focus on the diversity of the community. This is the only cultural institution in downtown Alexandria," Elmore says.
The museum, the birthplace home of the nationally renowned Black poet, anthologist and librarian, opened in 1988. The home was established as the first African American Museum in Louisiana, and is listed on the National Register of Historic Places.  "The mission of the museum is to further knowledge of the literary legacy of Bontemps and to promote awareness of African American history and culture among diverse audiences through programs in the humanities and the arts. The museum has allowed us to bring scholars and authors from different areas of the country," Elmore notes.
Several programs and activities were designed in association with the museum when Elmore served as president and executive director. A junior writer's guild for middle and high school students was established, and the Arna Bontemps African American Heritage Quiz Bowl for third through 12th grade students was formed. The "Jazz on the River" celebration was created in Alexandria, and it features renowned jazz artists.  Because of her work with establishing the museum, Elmore has been the recipient of several awards including the Association of African American Museum's Lifetime Achievement Award in 2009 and the State of Louisiana Cultural Leader Award in 2009.
Before establishing the museum and cultural arts center, Elmore worked as an English teacher and curriculum specialist for the Rapides Parish School System for 24 years. She is a graduate of Peabody High School in Alexandria. She earned her bachelor's degree in English from Dillard University in New Orleans, and her master's of education degree in supervision and administration from Northwestern State University in Natchitoches. Elmore obtain her Plus Thirty through Southern University in Baton Rouge. She has two daughters, Michelle and Denise.
After retiring from the school system, Elmore served as the minority race recruiter at Louisiana State University at Alexandria from August 1984 to 1986. She was the first executive coordinator for Cenla Pride, Inc., the Alexandria affiliate of Keep America Beautiful.  In January 1987, Elmore, a member of Rose of Sharon Missionary Baptist Church, was appointed to the position of mayoral assistant for community affairs in Alexandria. She retired from that position after 12 years of service.
Rosa Scott Jones
Rosa Scott Jones of Lecompte is busily preparing for the town's upcoming annual festival. After all, she has a vested interest in all the activities because Jones is the founder of the Lecompte Pie Festival.  Jones, who was born in Melder, was the first African American and the first and only woman to be elected mayor of Lecompte. As mayor, she served two terms.  "I had ran for mayor in 1994, but lost by 49 votes. So four years later, I ran again and won. I wanted Lecompte to have a festival, so I came up with the idea of a pie festival," Jones says.
She worked with Representative Charlie Dewitt to get a resolution passed that would name Lecompte as the pie capitol of Louisiana, and thus put the city "on the map." The first Lecompte Pie Festival was held in 2000, but by 2002 the bill was passed making the pie claim official. Before her days as mayor, Jones had worked 33 years, fulfilling her childhood dreams as an educator.  "When I was a little girl, we would always play school. And I was always the teacher," Jones recalls with a warm smile.
After graduating from Carter C. Raymond High School in 1955, Jones earned a bachelor's degree in education from Southern University in 1959. She received her master's degree in education and her Plus 30 hours in supervision administration from Northwestern State University in Natchitoches. She taught second grade for 18 years in Cheneyville, and later taught three years at Lecompte Elementary. Later, she served as the assistant principal at Carter C. Raymond High. After retiring from the education realm, Jones worked as the coordinator for the Rapides Senior Citizens Center in Lecompte. But she resigned from that job when she was elected mayor.
Currently, Jones is employed with the Rapides Senior Citizens Center again, and is the team leader over six centers. She and her husband of 51 years, Melford, have one daughter, Melonie, who is an attorney in Houston. Throughout her life, Jones has been the recipient of many honors recognizing her for her many accomplishments. But serving in her community and being with people is what she loves best.  "It is so important to be involved in your community. You need to know what is going on in your community, so you can help better it," Jones adds.
At Springhill Baptist Church in Lecompte, Jones serves as the youth Sunday School teacher and announcing secretary. She is an active member of Zeta Phi Beta Sorority and sponsor of Zeta Amicae. In addition, Jones is a board member of the Rapides Federal Credit Union and is co-founder of the Lecompte Rosenwald Carter C. Raymond Reunion.
Rodessa Metoyer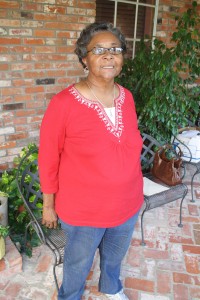 Music has permeated every aspect of Rodessa Metoyer's life. The Alexandria resident served as a music teacher and band director in public schools for nearly 30 years. Even in her retirement, Metoyer continues to share her musical talents through her various volunteer organizations.  "God has blessed me, and now I have the time to help others. When you are a volunteer and are 'giving back,' that is giving of yourself. Sharing your precious time and talents with everyone else is the most rewarding thing anybody could do," Metoyer says.
Born in New Orleans, Metoyer graduated from L.B. Landry High School in 1955. She earned her bachelor's degree from Southern University in Baton Rouge. She further pursued her education at Vander Cook College of Music in Chicago, and earned her master's degree of music at Northwestern State University in Natchitoches. Metoyer obtained her Plus 30 from Northwestern State University.
During her tenure as a public school teacher, Metoyer, who literally can play any instrument, taught general music, guitar, piano, choral music, band, English, reading and Louisiana history. In Oakdale, she was the chorale teacher and taught English. She has taught at Lincoln Road Junior High, Bolton High and Peabody High schools. Her last 18 years of teaching was at Brame Junior High School in Alexandria.  "It has been amazing to get feedback from students who just graduated and who I taught in the seventh grade. I didn't realize the impact I made," Metoyer says with a twinkle in her eye.
Metoyer, who married the late Numa Metoyer in 1962, has four children and seven grandchildren. She is a former Rapides Parish School Board member, a former member of the Louisiana Federation of Democratic Women and a former member of the Alexandria Rotary Club. Currently, she is active with the Arts Council of Central Louisiana, and has served on its executive committee. She volunteers to play the grand piano at St. Francis Cabrini Hospital in Alexandria. Metoyer is a Red River Chorale member and former board member. In addition to serving as a volunteer for the Widowed Support Group Outreach, Metoyer serves on the Neighborhood Accountability Board.  "This board is designed to keep youth out of the system and let them 'own up' to what they did. If restitution needs to be made, they do that too. At least 90 percent of the youth have turned around through this program," Metoyer notes.
At St. James Memorial Catholic Church, Metoyer is a cantor and organist. She will play in a special mass on October 23rd. She has served on the executive committee for the Diocesan Liturgical Commission. With her love for music, Metoyer stays active in the Louisiana Music Educators Association. And she was recently cast in the Alexandria City Park Players production of "Ain't Misbehavin'."
Ruby Woods Smith
For the last 48 years, Ruby Woods Smith has been a stellar educator and mentor in the Rapides Parish School System. Currently, she is responsible for the compilation of the Rapides Parish School Board Student Code of Conduct.  "I'm an advocate for students. Every student needs someone to look out for them. I'm a very effective disciplinarian, but that is needed to be an effective role model," Smith says.
One of ten children, Smith was born in Maringouin. She was salutatorian in 1958 when she graduated from Thomas Levy High School in Rosedale. She earned her bachelor's degree from Grambling State University, and her master's degree in education from Southern University in Baton Rouge. Smith obtained her Plus 30 from Northwestern State University in Natchitoches.
In 1964, Smith taught at Southwest Rapides High School and from 1969 to 1979 taught at Bolton High School. She became a resource specialist in 1980 and later became a coordinator. In 1982, Smith became a resource teacher, counselor and truant officer. By 1994, she became the director over child welfare and attendance.  "I believe in the Golden Rule: 'Do unto others as you would have them do unto you. I know the value of an education, and God has blessed me with an education. And blessings are meant to be shared," Smith says, adding that she has donated one extra hour a day at work for 48 years to accommodate the needs of her students and their parents.
A strong believer in the concept of 'giving back,' Smith volunteers with several community and civic organizations. In 1998, she organized an after-school program at her church, Bethel A.M.E. She is the former president of the Bethel A.M.E. Church Pastor's Aid Club and former president of the Willing Worker's Club. From 1984 to 1986 she served as a teacher of adult education at the Rapides Parish Detention Center. For years, Smith has worked with the Summer Youth Remediation Program and served as the director of the Drug Prevention Program Project Rescue from 1992 to 2001. She wrote the grant for the establishment of the Rapides Parish Truancy Center.
Smith has a plethora of professional accolades that could fill a book. Among the awards are a special recognition from the Alexandria's mayor office for achievement working with at-risk students and being recognized as a National Semifinalist for Teacher of the Year Award. In 2002, Smith was recognized with the Cenla's Best Award for Outstanding Community Service.
Idell Snowden
Named a "Natchitoches Treasure" by the City of Natchitoches in 2009, Idell Snowden embodies the spirit of a true volunteer who 'gives back' from the heart.  Snowden, who grew up in the East Baton Rouge Parish, believes everyone should volunteer in their community.  "You need to involve yourself. If you have pride and respect, you won't want to stop helping out. Everybody should 'give back,'" notes Snowden.
For more than 30 years, Snowden worked as an extension agent with the Louisiana State University Ag Center serving the rural youth and adults of Natchitoches Parish. She said her parents instilled in her as a child the value of an education. Snowden earned her bachelor's degree in vocational home economics at Southern University in Baton Rouge. After college graduation, she went into training to be an extension agent in Grant Parish. In June of 1953, she became an extension agent in Natchitoches Parish.  "I went to predominantly black school all out in the woods and in churches. The school session was split, so the children could help pick cotton," Snowden recalls.
She helped encourage and organize 4-H Clubs in the rural areas and served as the home demonstration agent to assist adults in proper techniques for canning, quilting, hygiene and home efficiency.  "I went by myself to the state competitions with the children and their livestock. We would go to Baton Rouge, and win first, second and third place often at the livestock shows," Snowden remembers.
Shortly after she began working in Natchitoches, Snowden married her high school sweetheart, Clarence. He has passed on, but they have two children, Sonya and LaRence. She has three grandchildren. Even after retiring as an extension agent, Snowden continues to serve as a 4-H Foundation trustee and member of the Natchitoches Parish 4-H Advisory Council. In 2009, in recognition of her life's work as an extension agent, Snowden was inducted into the 4-H Hall of Fame.  "That was one of the best things that could ever happen to me," Snowden says with much joy in her voice.
She is an active volunteer wit the Natchitoches Parish Council on Aging, the Wesley Foundation, a Neighborhood Watch and the Hibiscus Garden Club. In 2004, Snowden earned the prestigious Diane Chandler Award for her efforts with the "Keep Natchitoches Beautiful" project.  She is a volunteer with the Office of Community Service through the Police Jury and a community stewardess with the Ashbury United Methodist Church. In 2009, the Wesley Campaign Foundation Award was presented to Snowden in appreciation for her years of service as a board member.
Sally Maxie
An esteemed educator, Sally Maxie of Florien in Sabine Parish, devoted more than 26 years of her life as a teacher.  Maxie graduated from Sabine High School in 1961, and earned her bachelor's degree in English and speech at Southern University in Baton Rouge. She completed further study at Northwestern State University at Natchitoches. The youngest of eight children, Maxie knew at an early age the value of an education.
"We are people of purpose. My faith in God sustains me. I know that God has a purpose and plan for all of our lives. We need only to seek His will and know that 'all things work together for good for those who love Him and are called to His purpose.'" Maxie says, affirming she knew she had a calling on her heart to be a teacher.
Maxie retired from teaching in 1991 to take care of her mother, who later passed away in November of that year. Since retirement, Maxie has worked as a homebound teacher, English as a Second Language teacher, LEAP tutor, mentor to at-risk students and a part-time teacher in Pineland and Brouddas, Texas.  "My education has helped me help others. I tutor adults and children. I need to 'give back' because so much has been given to me by God," Maxie says.
Reaching out to others where ever she is needed is what Maxie is all about. She volunteers to tutor children at the Taylor House, a safe haven for battered women and their children. Maxie also volunteers to teach English at a local nursing home. Currently, Maxie serves on the Sabine Council on Aging Advisory Board and the Sabine Parish Library Board. She is an active member of the Sabine Retired Teachers and is associated with Christian Scholars at Home, a co-op for homeschoolers.
Maxie and her husband, William, have two children, Sonya and Whitney. She serves as a Sunday School teacher, Mission president and church secretary at Bright Star Baptist Church.  "Other than my mother, my high school librarian probably did more to influence me to become a teacher. She took a personal interest in me and encouraged me to compete in local and state oratorical contests. I felt that if I could affect that much influence on one child and if that child could inspire yet another, then the cycle might continue throughout infinity. Thus, I became a teacher." Maxie readily says when asked about the reasons she became an educator in the first place.
Evelyn Bush
Many Planning and Zoning Commissioner Evelyn Bush has been recognized as the recipient of the "Good Citizen's Award" by the Sabine Hall of Fame board of directors for good reason. She has spent a life time helping and serving others.  Born in Many, Bush was raised by her grandmother and father, as her mother had passed away when she was six years old.
"Some of my fondest memories of my childhood were experimenting in my grandmother's kitchen on the black and white stove. I had a burning desire to learn how to cook exceptionally well, and my father fed this passion by bringing home cookbooks from the store. A few of my favorite recipes were from the Yukon Flour and Clabber Girl Baking Powder collection. To this date, I have collected about 75 cookbooks," Bush says.
Once she learned to cook, it became her duty to prepare Sunday's dessert for her family. Going to school became the highlight of her childhood because Bush looked forward to becoming a home economics teacher. Her dedication to her studies paid off, as she graduated at the valedictorian of the Sabine High School class of 1943.
In the fall of 1943, Bush majored in home economics at Southern University in Baton Rouge. She returned home for one year to teach third grade in Sabine Parish. In 1946, Bush transferred to Tennessee State University in Nashville and completed her bachelor's degree in 1949. After graduating, she returned to Many to teach fourth-grade for one year. In 1950, she began teaching home economics at Sabine High School. In addition, she served as the head basketball coach for four years, lunchroom supervisor, class sponsor and a variety of other volunteer positions at the school.
In 1953, Bush married Arthur Bush, and the couple had two sons, Samuel and Arthur. Both of her sons have followed in her footsteps and became teachers. She also has a step-daughter names Linda. When Sabine High School was officially closed in 1970, Bush was reassigned to teach home economics at Many High School. She remained teaching at Many High until she retired in 1975, after 27 years of dedicated service.
After retiring from teaching, Bush re-entered the work force to work with the elderly population. She became the Outreach Worker for the Sabine Council on Aging in Sabine Parish. She later became the nutrition counselor. When she retired from the Council on Aging in 1999, the Many mayor proclaimed December 30 as "Evelyn Bush Day." Louisiana Governor Mike Foster presented her with a proclamation to honor the event. In 2000, Bush was selected as the first African American to become the Many Christmas Parade Grand Marshal.
Since 1938, Bush has been an active member of Bethel Baptist Church. She has served as Baptist Training Union secretary, pianist for Sunday School, deaconess and treasurer of the church. Besides serving as a Planning and Zoning commissioner, Bush serves on the Executive Board member with the Taylor House, the Sabine Emergency Food and Shelter Program and is co-chair of the Black Heritage Festival.
Brig. Gen. Sherian Cadoria
Sherian Cadoria, a resident of Hessmer, grew up on a tenant farm in Marksville. At 3 years old, she helped her mother pick cotton. When she was a baby, her father was injured in an accident from which he never recovered.  "We were the poorest of the poor. But my mother worked hard providing for my sister and brother," Cadoria recalls.
She attended Marksville Colored High School, but during her junior year, a new school was built. At Mary McLeod High, Cadoria led the band as the drum major. After high school graduation, she earned her business education bachelor's degree at Southern University in Baton Rouge. During her junior year at Southern, Cadoria joined the WAC College Junior Training Program, which ensured the rank of corporal after the training. In August 1961, her commission started her military career. She was assigned as the training officer in Company B at Fort McClellan in Alabama. At age 21, she was training the troops and would sing to them as they marched in cadence.  "I was called the 'Singing Lieutenant.' I would sing for the entire company in parades. During that time, there was a training film made based on me being the 'Singing Lieutenant,'" Cadoria recalls with a laugh.
After a two-year stint in Alabama, Cadoria was sent to France where her assignment was to serve the executive officer of the WAC company. She became the assistant adjutant, and would later serve as a school officer at the military-base school for two years. In 1965, Cadoria was assigned to Fort Lee in Virginia and became the Adjutant of special troops, which consisted of the WAC company of women and men. The next year she was selected to attend the Adjutant General Career Course in Indiana.  "From there, I volunteered to go to Vietnam. I stayed 33 months in Vietnam. First, I was with the military police, and then later assigned as the protocol officer to Qui Nhon Support Command," notes Cadoria.
"As protocol officer at Qui Nhon, I did all the reconnaissance before the VIPs were allowed into the combat zone. I did what a man would do. I carried a M-14 and a .45-caliber sidearm. I looked like Annie Oakley," Cadoria recalls with a laugh.  During these assignments, Cadoria was awarded three Bronze Stars and also an Air Medal for meritorious service at Cam Ranh Bay. While in Vietnam, Cadoria took time between her responsibilities to work with the Dominican nuns in hospitals and leper colonies. She was so touched by their work, she seriously thought about becoming a nun after her time in Vietnam ended.
"I came back from Vietnam in October 1969. I had decided to go to a convent and become a nun after I saw the good work of the nuns," Cadoria notes.  But after a talk with her commander, a phone call to her mother and brother and a month-long time off to consider the decision and a talk with her priest, Cadoria decided God had called her to be the best soldier she could be.  "God gives each of us something specific to do with our lives. I made my decision after much counsel and prayer, and I never looked back," she adds.
In 1970, Cadoria became the first black female to attend the Command and General Staff College in Kansas. She became the Commander of the Military Police Training Battalion at Fort McClellan, Alabama. Later she became Commander of the First Region Criminal Investigation Command. During this time, she earned her master's degree in social work from the University of Oklahoma. To say the least, Cadoria has led a brilliant military career and has been a trailblazer for African Americans and for women.
She was the first female to command an all male unit of military police. Cadoria was also the first woman to lead a criminal investigation brigade. She was one of two women first selected to attend the U.S. Army War College. Cadoria served as an aide to President Ford, and was later selected as a full colonel to serve in the security division for U.S. Army Europe and the 7th Army in Mannheim, Germany. From the cotton fields of Marksville to having her own office to command in the Pentagon, Cadoria says she believes she has fulfilled the calling of God on her life.
In 1985, Cadoria was promoted to the rank of Brigadier. After a 29-year distinguished military career, Cadoria retired in 1990. At that time, she started her own business and became an international motivational speaker and traveled the world. But true to form of her giving nature, Cadoria put her business on hold for three years to volunteer to serve as the principal of the Holy Ghost Catholic School in Marksville.
Cadoria has been recognized as one of the Top 10 Black Business and Professional Women and has received so many awards it would fill a notebook. In November 2002, Cadoria became the first woman and the first African American inducted into the Louisiana Military Veterans Hall of Honor.  "I am a strong believer in 'giving back' because of what God has given you. God needs to be in the forefront of everything," Cadoria says on how success is possible for those willing to work hard and believe in their self. "Believe in yourself no matter what. And if you cannot do something well, then don't do it."